Went out and did some quick tests on Wild Rabbits in E.Ronfaure.
---
Baseline
Elegy duration in normal gear with Horn+1: ~212 seconds (so at or a little over 3:30)
Predicted duration of night/troub elegy: ~420 seconds (about 7mins).
Actual duration: ~429 seconds
---
Testing
I saw some questions about log messages regarding a non-JA elegy landing when a JA-elegy was already up on a mob. I started by casting Night/Troub Elegy on the rabbit, letting the JA's wear off, then checking the log again when casting with a normal elegy.
Final elegy duration when casting in the first half (first 200-212s) of the elegy window: 275s (4:30)
Conclusion
: Non-Night/Troub elegy overwrites Night/Troub elegy (otherwise I'd have seen the longer 7:00min duration rather than the shorter 4:30 duration) -- at least if it comes from the same bard. o-o!
---
In theory, this should not happen.
A shorter-duration elegy shouldn't overwrite a longer-duration elegy, if debuff priority works the same way that buff priority does. So, I tried the test again -- this time enlisting the help of a fellow bard.
Predicted duration: ~4:30 (270s)
Actual elegy duration: ~4:44 (314s)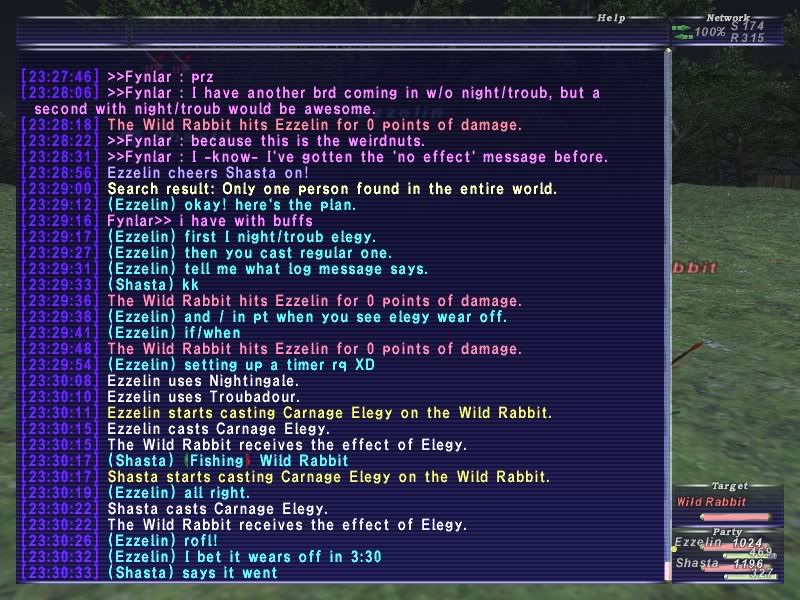 Conclusion
: Any bard can overwrite any other bard's elegy, regardless of remaining duration.
And then I got another friend to come out to join us, this time to test Soul Voice.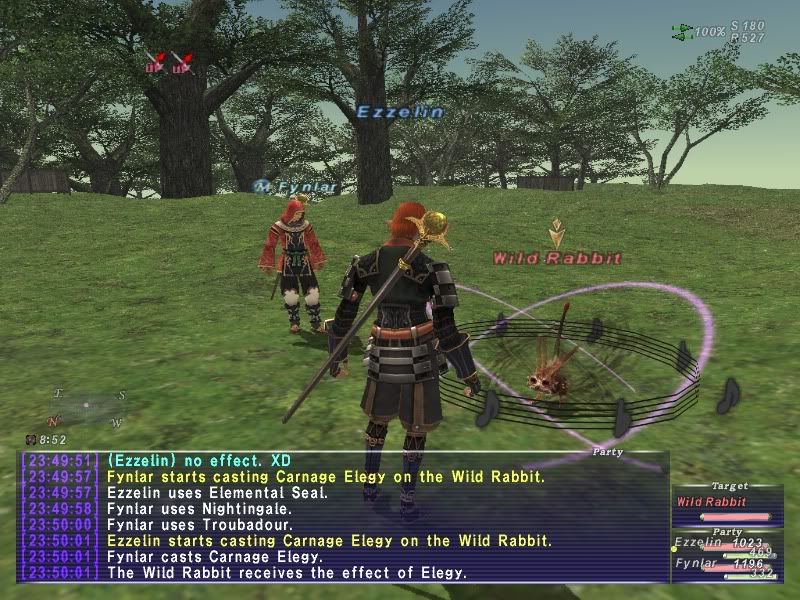 Predicted duration: ~4:30 (270s)
Actual duration: ~4:56 (296s)
Note: For this test, non-SV'd bards got 'no effect' messages against his SV'd elegy. However, he was able to overwrite his own SV Night/Troub'd Elegy with a non-Night/Troub'd (but still SV'd) elegy.
Conclusion:
Soul Voice'd Elegy has priority over any other elegy, regardless of duration. However, Troub+SV elegy can be overwritten by just a normal SV elegy. Casting elegy while an SV elegy is up will result in a 'no effect' message.
---
Why This is Important
Debuff duration priority does not work the same way that buff duration priority does! A shorter duration song -- and presumably a less potent one -- can overwrite a longer duration song.
Casting elegy after someone else has, and not getting resisted, does not mean that the previous elegy was either resisted or any less potent. It just means that your elegy landed and overwrote the previous elegy. So!
To answer the question posed
here
:
Casting random elegies at Khimaira is probably a bad idea.
People should just be taking turns, and letting the other bards know when they get a "Khimaira's Elegy wears off" message. This ensures that only Night/Troub'd elegies (hopefully with ES!) will stay on. The last thing you want is to land an elegy that wears off 1:30 later ... when your ES/Night/Troub bard's elegy has only been on for about :30.
IMPORTANT: At the moment, I have not yet had the opportunity to test that this effect is also true on HNMs. However, I don't believe that I'll see any difference.